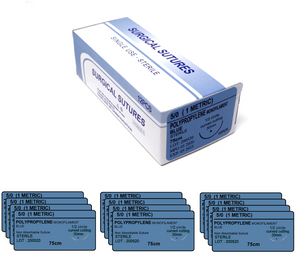 Good Strenth –– The thread (75cm) is made from high quality material that resists repeated bending and optimizes knot integrity. Users will be able to know the difference of each suture material and understand the spectrum of skill need to master suturing.
Non-Absorbable Thread –– Braided non-absorbable, sterile surgical suture that has a smooth flow through tissue while maintaining knot security and high strength while tension kept over the time.
Sharp & Durable Needles –– Comes with a reverse needle made of strong stainless steel for efficiency. The product has succesffuly passed quality assurance review agencies
Long Shelf Life –– All our sutures are sterilized and have a long shelf life. They individually packed for your convenience and good to use for several years.
Ready to Use Practise Kit –– Extensively used for training and educational purposes. Medical students from various branches use it for practicing knots and learning suturing methods.