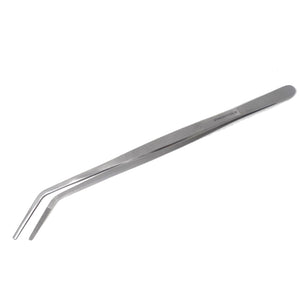 Fish Tank Maintenance –– The bent nose long-handle forceps can get into hard-to-reach corners under plants and help clean your fish tank by picking up substrates in gravel. This aquascaping tool is suitable for precision pruning, rearranging aquatic plants, cleaning the reef tank terrariums or succulent pot without disturbing the overall decore.
Reptile Feeding Tongs –– Serrated jaws securely grasp snails, live food, leaves, and plants and keep them from falling off. The length is ideal for feeding reptiles.
Premium Quality Material –– Made from premium grade stainless steel, promising durability, long life, and anti-corrosion properties. Sturdy and easy to clean, this reusable tweezer is durable to be used in freshwater and/or saltwater.
Long Handle for Extended Reach –– Extra-long tweezers tools help to plant and clean small and large aquariums. As well, the length is ideal for feeding snakes, lizards, spiders, frogs, and scorpions. Elongated tips will effortlessly enter hard-to-reach spaces to prune aquatic plants.
Non-Slip Grip –– Featuring a refined grip and non-slip texture in the form of parallel groves, strategically and thoughtfully engraved on either side of the stainless-steel exterior to ensure maximum grip and sturdy hold. The internal teeth at the front end are flattened to maintain a good grip and avoid slipping out of your hand even when wet.
Manufactured from AISI 420 stainless steel, the product conforms to ISO 9001, ISO 13485, FDA, and other Quality Standards. Enables a high degree of precision and flexibility while conducting delicate procedures. Smooth finish for aesthetic and corrosion resistance for long service life.