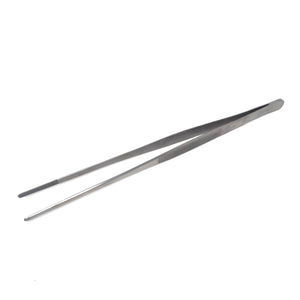 Applications –– Useful tool for taking care of all types of aquarium plants, clean fish tank substrate, handle coral reef, and adjust aquarium gravel. Perfect for picking up roaches, super worms, and crickets for your reptile pet. You can also use tweezers for inserting nutritional capsules into the substrate. Grasp the capsules with the tweezer insert into the substrate and gently let go.
Harmless & Environment-Friendly Tongs –– Designed to be narrow toward the tip making it safe for feeding reptiles, lizard bearded dragon, gecko, spider, frog, and aquarium fish. Its composition is completely harmless to your water plants and your reptiles' mouths. Anti-rust coating does not pollute the living environment of aquatic plants and animals.
Premium Quality Material –– Made from premium grade stainless steel, promising durability, long life, and anti-corrosion properties. Sturdy and easy to clean, this reusable tweezer is durable to be used in freshwater and/or saltwater.
Long Handle for Extended Reach –– Extra-long tweezers tools help to plant and clean small and large aquariums. As well, the length is ideal for feeding snakes, lizards, spiders, frogs, and scorpions. Elongated tips will effortlessly enter hard-to-reach spaces to prune aquatic plants.
Non-Slip Grip –– Featuring a refined grip and non-slip texture in the form of parallel groves, strategically and thoughtfully engraved on either side of the stainless-steel exterior to ensure maximum grip and sturdy hold. The internal teeth at the front end are flattened to maintain a good grip and avoid slipping out of your hand even when wet.
Manufactured from AISI 420 stainless steel, the product conforms to ISO 9001, ISO 13485, FDA, and other Quality Standards. Enables a high degree of precision and flexibility while conducting delicate procedures. Smooth finish for aesthetic and corrosion resistance for long service life.