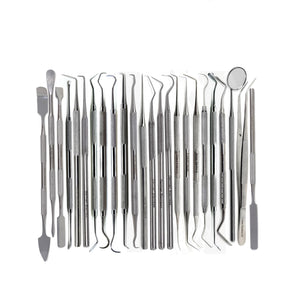 PROFESSIONAL 24-IN-1 DENTAL HYGIENE KIT –– The dental kit is designed for both professional dentists and personal use. These hygiene tools help to remove stains, tartar, and debris from teeth and gums without causing pain and damaging tooth enamel.
AFFORDABLE QUALITY MATERIALS –– Made of high quality stainless steel for optimum utility, easy to sterilize, and fully autoclaved without fear. Polished finish for aesthetic & rust corrosion resistance resulting from superior craftsmanship.
KNURLED HOLDING SURFACE –– Holding surface is knurled and textured for a firm grip even with wet hands. The corrugated handle design offers smooth maneuvering, giving you more control and access to tight areas. Ergonomically designed handle helps to promote neutral wrist posture when working on hard-to-reach areas of the mouth.
PET FRIENDLY –– These lightweight oral diagnostic tools can safely be used to keep your pet's teeth and gum healthy. Helps to remove food residue and freshen the breath.
DIFFERENT SHAPES –– Set of 24 oral care tools are designed in different shapes making them suitable for different sides of the mouth. The dental pick oral care kit can help you pinpoint the spots you missing in your daily brushing and flossing.

Package Includes:
1  DENTAL MIRROR #5
1  COLLEGE COTTON PLIERS
1  SICKLE SCALER H6/H7
1  JACQUETTE SICKLE SCALER U15/33
1  SICKLE MORSE SCALER
1  POSTERIOR JACQUETTE SCALER WITH MINIATURE BLADES
1  DOUBLE ENDED SCRAPPER
1  DOUBLE ENDED PLUGGER
1  DOUBLE ENDED HOLLENBACK CARVER
1  HEIDBRINK ELEVATOR H 2/3
1   EXPLORER / SCALER #1
1   EXPLORER / SCALER #6
1   EXPLORER / SCALER #9
1   EXPLORER / SCALER #90
1   EXPLORER / SCALER #17
1   EXPLORER / SCALER #23
1  DENTAL DOUBLE ENDED EXPLORER PROBE # 6
1  DENTAL DOUBLE ENDED EXPLORER PROBE # 3/6
1  DENTAL DOUBLE ENDED EXPLORER PROBE # 6/17
1 GERMAN DENTAL DOUBLE ENDED EXPLORER PROBE # 6/90
4 DENTAL WAX CARVER SPATULA