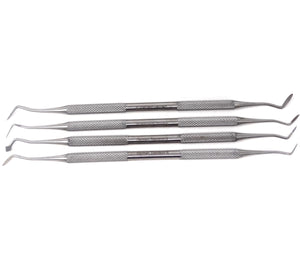 4 Pcs DENTAL HOLLENBACK CARVERS SET –– Designed for placing, carving and contouring amalgam or wax following natural anatomical form.
AFFORDABLE QUALITY MATERIALS –– Made of high quality stainless steel for optimum utility, easy to sterilize, and fully autoclavable. Polished finish for aesthetic & rust corrosion resistance resulting from superior craftsmanship.
KNURLED HOLDING SURFACE –– Holding surface is knurled and textured for a firm grip even with wet hands. The corrugated handle design offers smooth maneuvering, giving you more control and access to tight areas. Ergonomically designed handle helps to promote neutral wrist posture when working on hard-to-reach areas.
SPECIALIZED ORTHOPEDIC TOOL ––  Manufactured to use for contour and carve occlusal surfaces and inter-proximal surfaces. 
DOUBLE ENDED ENDS –– Double-Ended designs provide a wide range of opportunities to carve and shape amalgam and composites during restorative dentistry.