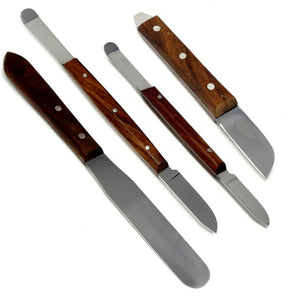 PACKAGE INCLUDES:
1 Pcs Fahenstock Knife Large
1 Pcs Fahenstock Knife Small
1 Pcs Wooden Handle Spatula
1 Pcs Wooden Handle Knife 12R
VERSATILE AND PRACTICAL TOOLS –– The wooden handle spatulas are made from fine-grained wood to achieve a solid presence in the hand and greater balance when working with delicate pieces. Comes precisely honed and hand sharpened polished blade edge sides for maximum sharpness & edge retention ensuring precision slicing every time. The blades provides sharp cutting edges with additional strength in the direction of the cut.
RANGE OF APPLICATIONS –– Reusable tools that multi-task for a wide range of applications across multiple industries. Generally used for transferring, collecting, blending, stirring, mixing, applying, or handling chemical samples/solutions. Designed to handle gel, oils, paste, powdered or granulated materials. User-friendly tools that are an ideal choice to improve work efficiency.
FULLY & PARTIAL TANG HANDLE DESIGNS –– Double or Triple-riveted for a sure grip and absolute stability that ensures easy maneuverability. Sturdy and durable, the handle is partially or fully connected with the cutter head and tail ends, which improves work efficiency. The handle is made from a fine grained wood to achieve a solid presence in the hand and greater balance when working with delicate pieces.
PREMIUM QUALITY MATERIAL –– These tools are manufactured using high quality, rust-free stainless steel blades, which is built to last repetitive use without degredation. Resistant to deterioration from boiling water and chemical solvents prolonging the life of these instruments. Manufactured from AISI 420 stainless steel, the product conforms to ISO 9001, ISO 13485, FDA, and other Quality Standards.
EASY TO DISINFECT –– These versatile instruments have been tested for durability to withstand extreme pressure and temperatures. Every tool is designed with specifications for maximum efficiency. The tools have smooth finish, preventing damage and irritation to your perforation, making it ideal for repetive use.
IDEAL FOR SCIENCE LABS –– This kit offers a variety of spatula edges/ends, different length sizes and styles, which can meet different needs. The kit is equally suitable for teachers and students. An ideal for gift for beginners enrolled in biology, anatomy, medical, veterinary, physiology training centers.