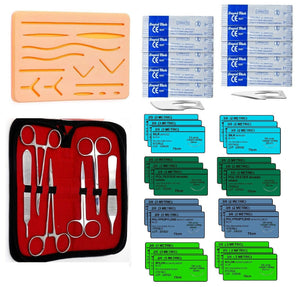 ALL IN ONE KIT: The kit includes Authentic human skin-like suture pad (with 14 pre-cut wounds), surgical training scissors, adson forceps (tweezers with teeth), Hegar needle holder, mosquito forceps, scalpel handle#3, 10 disposable blades, and 4 types of main non-absorbent sutures (needle & thread). Nylon and Polypropylene monofilament, Silk and Polyester braided.
24 SUTURE THREADS: Whether you need to practice continuous, interrupted, mattress or subcuticular stitches, our suture practice kit gives you 24 packs of Nylon, Polypropylene, Silk & Polyester sutures.
VARIETY OF PRECUT WOUNDS WITH SPACE FOR CUSTOM CUTS: Silicone suture pad comes with different pre-cut wound shapes with additional space for your own custom incisions.
CARRYING CASE: Everything packs away in our carryall case. A portable carrying case was created to be both useful and fashionable. Not only does it conveniently store suture instruments but a hidden pocket enables students to store and organize their sutures for maximum convenience in class.
DESIGNED FOR PRACTICE PURPOSES: The suture kit instruments and materials are designed for educational and demonstration purposes only. They are not intended for use on humans or animals.
KIT Includes:
1 Suture Silicone Pad

1 Mayo Hegar Needle Holder
1 Adson Tissue Forceps 1x2 Teeth 4.75"
1 IRIS Dissecting Scissors 4.5" Straight Blades
1 Suture Stitch Scissors 4.5"

1 Mosquito Hemostat Forceps 5" Curved

1 Scalpel Handle #3

3 Nylon Monofilament Blue

Sterile Non-Absorbable Suture 2/0 with needle
3 Nylon Monofilament Blue Sterile Non-Absorbable Suture 3/0 with needle
3 Silk Braided Sterile Black Non-Absorbable Suture 2/0 with needle
3 Silk Braided Sterile Black Non-Absorbable Suture 3/0 with needle
3 Polyester Braided Sterile Green Non-Absorbable Suture 2/0 with needle
3 Polyester Braided Sterile Green Non-Absorbable Suture 3/0 with needle
3 Polypropylene Monofilament Sterile Blue Non-Absorbable Suture 2/0 with needle
3 Polypropylene Monofilament Sterile Blue Non-Absorbable Suture 3/0 with needle