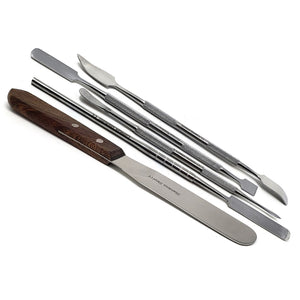 Optimum Size & Design –– Made of high quality and duraable stainless steel for optimum utility. Used by professional, non-professional, beginners as well as in training centers. Ergonomically designed handle helps to promote neutral wrist posture when working on hard-to-reach spaces.
Knurled Handle Design –– The corrugated design increases friction during use, ensures stability during use, and facilitates fine processing. Knurled handles provide excellent grip, even with wet slippery hands.
Different Shapes –– This kit offers a variety of spatula edges/ends, different length sizes and styles, with flat and pointed double ends, which can meet different needs. The flat end will easily stir, scoop out pastes as well as blend textures. 5-in-1 set is useful for various sculpting, carving, chipping, and modeling techniques.
Wide Range of Applications –– These tools are useful to make hollow carvings, smoothing, marking, styling, grinding and scraping. Convenient to use on many texture: malleable, pliable such as polymer, ceramic clay, and wax candle. the kit meets your various craft projects need for different creative effect.
Affordable Quality Materials –– Manufactured from AISI 420 stainless steel, the product conforms to ISO 9001, ISO 13485, FDA, and other Quality Standards. Enables a high degree of precision and flexibility while conducting delicate procedures. Smooth finish for aesthetic and corrosion resistance prolonging the life span of the product.