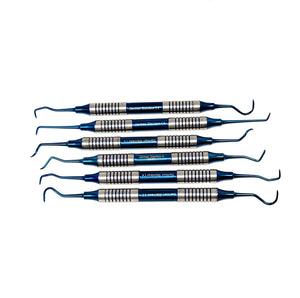 DOUBLE ENDED 6 Pcs DENTAL SCALERS –– The dental kit is designed for both professional dentists and personal use. These hygiene tools help to remove stains, tartar, and debris from teeth and gums without causing pain and damaging tooth enamel.
AFFORDABLE QUALITY MATERIALS –– Made of high quality stainless steel for optimum utility, easy to sterilize, and fully autoclavable. Polished finish for aesthetic & rust corrosion resistance resulting from superior craftsmanship.
DIFFERENT SHAPES –– Set of 6 oral care tools are designed in different shapes making them suitable for different sides of the mouth. 
HOLLOW HANDLE –– Holding surface offers a large diameter and an exclusive ring design textured for a firm grip. The hollow handle design offers smooth maneuvering, giving you more control and lighter weight. Ergonomically designed handle helps to promote neutral wrist posture when working on hard-to-reach areas.
BLUE TITANIUM COATED –– Blue Titanium coated tips for a stark contrast of the tip. Improved visual acuity with the signature blue colored anodized titanium. Designed with a uniquely processed titanium that does not scratch.