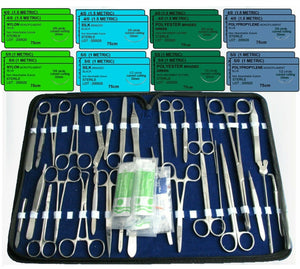 ALL IN ONE KIT: The kit includes surgical scissors, tweezers, needle holder, mosquito forceps, scalpel handle#3, disposable blades, and 4 types of main non-absorbent sutures (needle & thread).
EASY TO DISINFECT: Every tool is designed with specifications for maximum efficiency. The tools have smooth finish, preventing damage and irritation to your perforation, making it ideal for everyday use.
PREMIUM QUALITY MATERIAL: These tools are manufactured using high quality, rust-free stainless steel, which is built to last repetitive use without degredation.
CARRYING CASE: Everything packs away in our carryall case. A portable carrying case was created to be both useful and fashionable. Not only does it conveniently store suture instruments but a hidden pocket enables students to store and organize their sutures for maximum convenience in class.
IDEAL FOR PRACTICE PURPOSES: The suture kit instruments and materials are designed for educational and demonstration purposes. This kit is equally suitable for teachers and students.

KIT Includes 91 Pcs in a Carrying Case:
1 Pcs Hemostat Forceps - 10" Curved
1 Pcs Metzenbaum Scissors - 7" Curved
1 Pcs Olsen Hegar Needle Holder
1 Pcs Mayo Hegar Needle Holder
1 Pcs Suture Stitch Scissors - 4.5"
1 Pcs Adson Tissue Forceps 1x2 Rat Tooth - 4.75"
1 Pcs Adson Dressing Forceps Serrated Tips - 4.75"
1 Pcs Adson Brown Forceps - 4.75"
1 Pcs Half Curved IRIS Forceps - 4" Serrated
1 Pcs Full Curved IRIS Forceps - 4" Serrated
1 Pcs Straight IRIS Forceps - 4" Serrated
1 Pcs Thumb Dressing Serrated Forceps - 5.5"
1 Pcs Thumb Tissue Forceps 1x2 Teeth
1 Pcs Precision Point Tweezers
1 Pcs Bandage Scissors - 5.5"
1 Pcs Kelly Forceps - 5.5" Straight
1 Pcs Kelly Forceps - 5.5" Curved
1 Pcs Mosquito Hemostat - 5" Straight
1 Pcs Mosquito Hemostat - 5" Curved
1 Pcs Micro IRIS Dissecting Scissors - 4.5" Straight
1 Pcs Micro IRIS Dissecting Scissors - 4.5" Curved
1 Pcs Operating Scissors Sharp/Blunt - 5.5" Straight
1 Pcs Operating Scissors Sharp/Sharp - 5.5" Straight
1 Pcs Operating Scissors Blunt/Blunt - 5.5" Straight
1 Pcs Backhaus Towel Clamp - 3.5"
1 Pcs Butterfly Probe
1 Pcs Mall Probe Seeker
1 Pcs Scalpel Handle No 3 with Engrave Measurement Scale
1 Pcs Scalpel Handle No 4 with Engrave Measurement Scale
4 Pcs 4/0 Training Sutures - Silk, Sterile Sealed with Needle
4 Pcs 4/0 Training Sutures - Nylon, Sterile Sealed with Needle
4 Pcs 4/0 Training Sutures - Polypropylene, Sterile Sealed with Needle
4 Pcs 4/0 Training Sutures - Polyester, Sterile Sealed with Needle
4 Pcs 5/0 Training Sutures - Silk, Sterile Sealed with Needle
4 Pcs 5/0 Training Sutures - Nylon, Sterile Sealed with Needle
4 Pcs 5/0 Training Sutures - Polypropylene, Sterile Sealed with Needle
4 Pcs 5/0 Training Sutures - Polyester, Sterile Sealed with Needle
10 Pcs Surgical Sterile Blades #10 - Individually Foil Wrapped
10 Pcs Surgical Sterile Blades #11 - Individually Foil Wrapped
10 Pcs Surgical Sterile Blades #22 - Individually Foil Wrapped