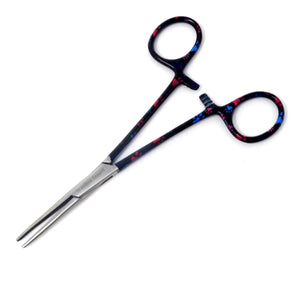 Grooming Tool –– A fundamental tool used by pet groomers for cleaning delicate areas with gauze or cotton wool and reduces any risks of infections.
Safe for Pets –– Rounded blunt tips to assure safety during various pet grooming procedures specially for small breeds.
Multi-Purpose Locking Mechanism –– They feature a multi-position locking mechanism allowing them to act as clamps.
Durable & Sturdy –– Manufactured from AISI 420 stainless steel, the product conforms to ISO 9001, ISO 13485, FDA, and other Quality Standards.
Easy to Disinfect –– This reusable tool is easy to clean and disinfect. Ensure a crisp grooming experience with your Shih Tzu, Yorkie, Sphynx, or Siamese.
Specifications:
Item Type: Pet Ear Hair Pliers
Material: Stainless Steel
Size/Length: Approx. 14cm (5.5")
Jaw Angle: Fully Serrated Straight Jaws
Color: Black Multi Paws Pattern
Weight: Approx. 2 oz
Features: Multi Position Locking Ratchet