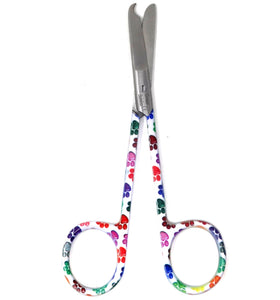 One Hook Tip –– These snips feature a hook in the front of the blade to quickly pull just one strand of thread or for close cuts in your embroidery work. These scissors have a small hook-shaped tip on one blade that slides under threads and yarns to slightly lift them before cutting. This hook also holds the threads and yarns so it does not slip off the blade of the scissors prior to cutting.
Sleek Delicate Design –– Designed as a delicate, slender pattern. The tip of the scissors can easily cut fine threads, which makes it perfect for embroidery, needlework, sewing, DIY crafts, thread cutting, paper cutting and more. Small and precise detail scissors for the sewing enthusiast. You can carry them easily in your crafting bag or put them anywhere around the house for quick and convenient access.
Smooth Finish –– The scissors have a delicate texture, sharp blades with smooth opening and closing make you easily accurately clip delicate cross stitch and trim intricate quilts. Lightweight ergonomic design reduces hand fatigue. Easy to maneuver, these scissors help reduce finger and hand tiredness.
Steady Grip –– The handle holes of the scissors are smooth and comfortable to hold with no burrs that could hurt the hand. The comfortable handle provides stability during embroidery, needlework, thread, sewing, artwork, and various handmade tasks. They provide a comfortable cutting feel and effectively save your strength, shorten the working time.
Sturdy & Functional –– Made of high-quality stainless steel, which is durable and sturdy to use, solid construction, anti-rust, and wear-resistant, not easy to fade. These scissors are extremely useful when needed to carefully tease out and snip a thread without worrying about damaging the surrounding threads or the underlying fabric.
Manufactured from AISI 420 stainless steel, the product conforms to ISO 9001, ISO 13485, FDA, and other Quality Standards. Enables a high degree of precision and flexibility while conducting delicate procedures. Smooth finish for aesthetic and corrosion resistance prolonging the life span of the product.