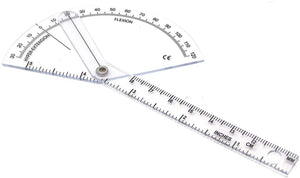 HEAVY GUAGE PLASTIC –– Made of clear heavy guage plastic, this goniometer is an ideal medical evaluation tool used in different types of physical/occupational/sports therapy settings or a rehab program. Ideal for physical therapists, medical students, clinicians, and anyone working in the healthcare sector.
IMPROVES WORK EFFICIENCY –– The transparent goniometer can be placed directly on a joint or limb for easy observation of the joint's axis of motion and range of motion. The 120 degree protractor arm movement makes it easy to gauge various angles during rehab sessions. Medical interns use it to assists in physical therapy by determining the range of a joint's motion.
INTERNATIONAL STANDARDS of MEASUREMENTS –– 120 degrees of coverage in 1-degree increments to ensure accuracy. Comes with a standard, calibrated head and uniform increments that conform to global ISOM benchmarks.
CLEARLY MARKED SCALES –– Linear moving arms features both inches and centimeter measurements for convenience. Easy to read scale with measurements in inches and centimeters available on the arm of the goniometer.