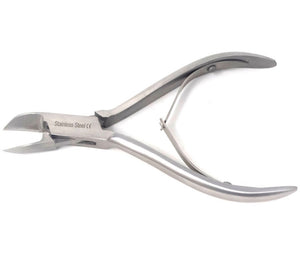 WELL GROOMED NAILS –– The sharp blades can cut thick nails smoothly and easily with no jagged nail edges effectively preventing nails from cracking. The classic nail-shaped curve fits the arch of your nails. Also used for trimming dead skin and cutting off any rough edges without any pain.
EXTRA WIDE OPENING –– Ideal for tackling ingrown or fungus nails and all kinds of problems caused by diabetes, paronychia, aging and other health problems.
AFFORDABLE QUALITY MATERIALS –– Made of high quality stainless steel for optimum utility and corrosion resistance resulting in longer life span.
ENHANCED GRIP & LEVERAGE –– Ergonomically designed handle to help trim the toughest of nails, while being gentle and easy to use.
SUITABLE FOR YOUNG & ELDERLY –– Suitable for elderly, athletes, arthritic, podiatrist, men, women, seniors, people suffering from limited dexterity or strength, and arthritis.
For sanitary purpose, use alcohol to wipe and clean these tools before and after each use.