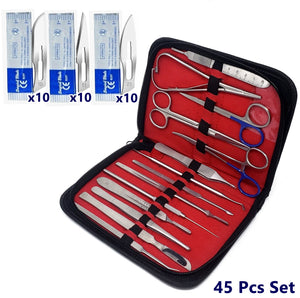 ALL IN ONE KIT: 45 Pcs hobby craft kit comes with all in one instruments including Scalpel Handle, Craft Blades, Beading Needles, Tweezers, Scissors, Serrated Pliers, and other tools.
PREMIUM QUALITY MATERIAL: These tools are manufactured using high quality, rust-free stainless steel, which is built to last repetitive use without degredation.
CARRYING CASE: Everything packs away in our carryall case. A portable carrying case was created to be both useful and fashionable. Not only does it conveniently store tools it enables users to organize the contents for maximum convenience.
WIDE APPLICATIONS: Reusable tools that multi-tasks for a wide range of applications including building, repairing, restoring, shaping, placing, cleaning, cutting, gluing, or assembling models, figurines, dollhouses, miniatures, DIY crafts.
IDEAL FOR HOBBY ENTHUSIASTS: This basic tool kit equally suitable for a beginner and/or experienced hobbyists.
Package Includes 44 Pcs in a Carrying Case:
    1 Pcs Dissecting Spatula
    1 Pcs Needle Holder
    1 Pcs Micro Dissecting Scissors
    1 Pcs Blunt/Sharp Blade Ends Scissors
    1 Pcs Fully Serrated Pliers
    1 Pcs Wide Body Tweezers 1x2 Teeth
    1 Pcs Double Ended Probe
    1 Pcs Serrated Forceps
    1 Pcs Scalpel Handle No 3
    1 Pcs Scalpel Handle No 4
    1 Pcs Scalpel Handle No 7
    1 Pcs Cartiladge Knife
    1 Pcs Micro Dissecting Needle Straight
    1 Pcs Probe Spatula Curved End
    10 Pcs Disposable Blades #10 - Individually Foil Wrapped
    10 Pcs Disposable Blades #11 - Individually Foil Wrapped
    10 Pcs Disposable Blades #23 - Individually Foil Wrapped
    1 Pcs Black Carrying Case