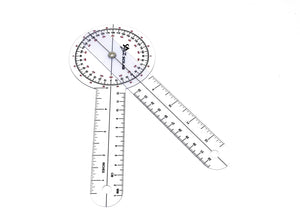 EASILY DETERMINE RANGE OF MOTION - A goniometers primary purpose is to assist in physical therapy by determining the range of motion of a joint. It's an easy way to gauge recovery after surgery or physical therapy.
AN ESSENTIAL TOOL FOR TREATMENT - A goniometer is an essential tool for anyone who works in or is going through physical therapy, sports therapy, or a rehab program following surgery or an accident.
TRANSPARENT FOR EASY READINGS - The clear plastic of the goniometer allows you to place the device directly on a joint or limb for easy observation.
CLEAR ISOM DESIGN - The easy to read 360? head features three scales to allow for a variety of readings. The arm's ruler features both inches and centimeters.