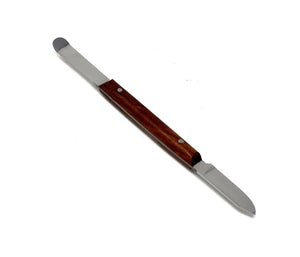 KNife End : Length 4 cm. Width: 1 cm

Spatula End: Length 4.75 cm, Width: 1 cm
STAINLESS STEEL SPATULA WITH WOODEN HANDLE: Designed with wooden handles for a good grip, optimal comfort & control. Stainless steel material is quality assured.

BUY WITH CONFIDENCE : 100% SATISFACTION GUARANTEE: We offer you a 100% satisfaction guarantee with every purchase. Risk-Free purchase if you order now! Enjoy yourself with a unique experience!