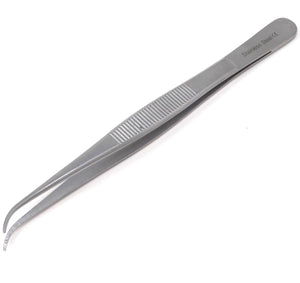 Easy to Squeeze –– Perfectly calibrated to ensure that they are easy to maneuver when picking up beads, diamonds, stones, and gems.
Optimum Size & Design –– The serrated tips are designed for removing or gripping small items without scratching them or leaving any marks.
Versatile & Functional –– Ideal for a wide range of applications including jewelery repairs, assembling or disassembling gems, and making DIY crafts.
Sturdy Hold –– Featuring a refined grip and non-slip texture in the form of parallel groves, strategically engraved on either side of the exterior to ensure desired grip and control.
Reusable All-Purpose Tool –– Easy to disinfect, each tweezers is designed with specifications to improve work efficiency.
Premium Quality Materials –– Manufactured from AISI 420 stainless steel with smooth finish for aesthetic and corrosion resistance prolonging the life span of the product.