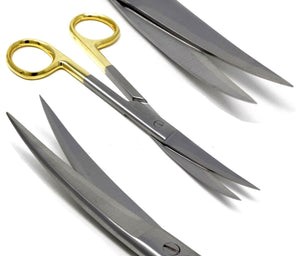 Size: 5.5" (14cm), Blades : Curved, Sharp / Sharp with Tungsten Carbide (TC) Inserts
TC inserts maximizes control and precision, provides an exceptionally durable and hard cutting edge, and allows blades to stay sharp for a significantly longer period of time.
TC instruments are identified by gold handles.
Excellent for cutting suture, tissue, and other general uses in the Operation and other universal purposes.
Constructed of 420 type stainless steel with Superior Craftmanship.
Reusable
Latex-Free
Corrosion Resistant
Product Conforms to ISO 9001, CE-Quality Mark, ISO 13485 and other Quality Standards
High Degree of Precision and Flexibility while conducting the Clinical Procedure.
Dissecting scissors have several uses in the operating room when used by medical professionals.