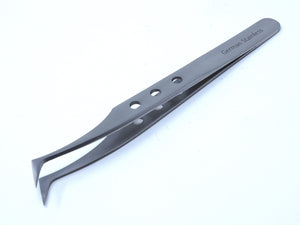 Stainless Steel !!
Perfectly Calibrated: These precision tweezers are calibrated to ensure that they are easy to squeeze and maneuver. The ergonomic grip of this Tweezers, eliminates the danger of falling out of a user's hands. The shape and handle is designed for maximum visibility and control while using them.
Incomparably Durable: Made with Premium Grade stainless steel . The tips are pointed and durable and easy to clean. The tweezers will retain their honed edges even with frequent use to last for years.
Work: Great for eyelash extension. Easily remove ingrown hairs, splinters, debris, thorns, glass, metal, ticks, and anything embedded under the skin, such as fingers, hands, feet, legs, nose, ear hair and also be used fine groom the eyebrows. suitable for picking, clipping nail art rhinestones or decoration.