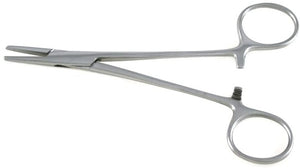 A needle holder, also called needle driver, is an instrument similar to a hemostat, used by doctors and surgeons to hold a suturing needle for closing wounds during suturing and surgical procedures. The parts of a simple needle holder are the jaws, the joint and the handles.
Constructed of 420 type stainless steel with Superior Craftmanship.
Reusable
Latex-Free
Corrosion Resistant
Product Conforms to ISO 9001, CE-Quality Mark, ISO 13485 and other Quality Standards
High Degree of Precision and Flexibility while conducting the Clinical Procedure.